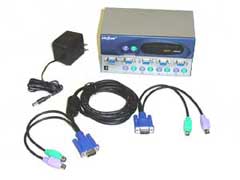 Features

Access multiple PCs by one set of Keyboard, Monitor and Mouse.


Save space, equipment and power consumption.


Auto Scan Mode sequences through PCs is powered on.


Buzz for switching confirmation


Front panel LED show whichever PC is selected.


Full emulation of Keyboard and Mouse, PCs can be booted while powered on.


Caps Lock, Scroll Lock and Num Lock LED status are saved and restored while switching among PCs.


Select PCs by push button or Hot Key commands.


Support XVGA/SVG/VGA and multi-sync Monitors, Resolutions up to 2048 * 1536 @72MH